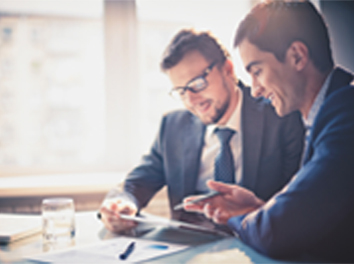 COMMERCIAL INSURANCE
Overview - Commercial Insurance
As a business owner, partner or director you face various risks, some of which you may want or have to transfer to insurance.
What cover do I need?
Your legal insurance obligations are mainly:

• Legal liability to employees - the Employers Liability Compulsory Insurance Act • Legal liability to others - the Road Traffic Act and the Riding Establishments Act • Professional liability - required by regulators of the Law, Accountancy, Financial services, the medical professions amongst others

Other types of business insurance are optional, albeit from a financial and contractual perspective, certain covers will be fundamental to the running and future security of your business.
Commercial insurance is usually sold as a package, combining a number of different covers or policies under one premium or umbrella arrangement. The types of policies you need will be based on a number of considerations and the level of premium will be influenced by specific risk factors along with the following:
• Your claims history
• The nature of your business and the type of premises
• Your annual turnover and the number of people you employ
Most Popular Types of Insurance
Commercial Property insurance - this covers the cost of repairing or rebuilding your business premises, or replacing your stock or equipment.
Business Interruption insurance - this will cover the temporary loss of income for any periods when you cannot do business as normal because of an incident causing damage to property on your premises. This might be due to instances such as fire or flood causing damage to your property and leading to your operations being shut down. Business Interruption will pay an amount to cover the shortfall in profit (before tax is taken off), and pays any increased running costs as a result of the event Various cover extensions are standard or can be factored in to this extremely important aspect of cover, for example, damage occurring at the premises of a supplier or customer, or people not being able to get into your business premises due to an incident in the immediate vicinity
Liability insurance – this covers the cost of compensation claims following fault or negligence brought against you or your business by clients, customers, shareholders, investors, or members of the public.
Commercial Motor insurance – if you use motor vehicles for your business you are legally obliged to have Motor insurance for your entire fleet. If your employees are using their own private vehicles for work purposes you are not obliged to pay for their motor insurance but you are required to ensure that they have the minimum cover required by law. Your employees should disclose the fact that they are using their personal vehicles for work purposes to their motor insurance provider.
Follow the links from this page for details of the various types of policy we have featured. Other Commercial Insurance policies are available to meet individual requirements.
Why customers choose Marlow Gardner & Cooke
We're not a call centre, we don't have call queues
You talk to the same people; you know them, they know you
We listen but also ask lots of questions; we tailor your solution around you
We take ownership of problems and respond with solutions
You can be confident your insurance has been set up correctly
You can meet us face to face at our office or on site
Our service includes risk management advice and claims support